Ayers Legends German Shepherd Family
Proud –
A.K.C Breeder of H.E.A.R.T
Ayers Legends German Shepherds is family owned and operated out of Southern Oklahoma.
Where we take pride in preserving the old fashion German Shepherd.
For our family it is a passion to breed a German Shepherd that is Superior to any other G.S.D you'll find out there, while keeping Health & Temperament as our key focus but maintaining the integrity of what the Old Fashion G.S.D use to be.
Without Health being 1st, nothing else really matters!
From day 1 our pups are handled on a daily basis by our kids and by us.
This helps them get a jump start in life by  stimulating the neurological system, it helps develop a strong cardio system and helps make a pup that is ready to be a great family companion for adults & kids.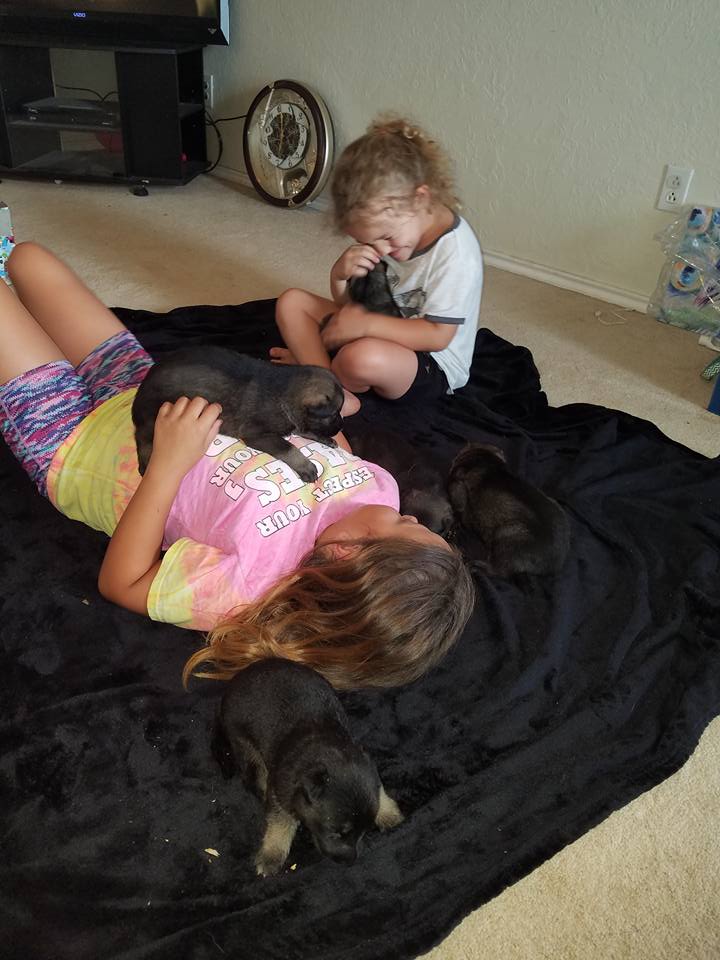 Our lines have very stable temperaments that are suitable for families but also can excel at jobs such as Search and Resuce, Therapy work or are often achieve Titles with the owners.
At Ayers Legends German Shepherds we have years of knowledge that we continually pass down to our customers, to ensure they have a proper roadmap for success to a healthy pup that will have many years to come!
We also have a Facebook group that is for customers only.  It is the Ayers Legends Family page . Once you get a G.S.D from us you become a part of our big , extended family.
We make video's quite often that we post on the page to help guide and assist to answer any questions that our customers might have. We post video's that cover subjects such as Vaccinations, Spaying and Neutering, Nutrition – what to feed and what not to feed, How to properly aid in healthy growth for a young pup, Etc.
We  have a true passion for what we do and are always there for our customers to provide and pass on our knowledge in ways that many other breeders don't do.
With Ayers Legends you will get continued education through out the years with your new family member.
LARGE OLD FASHIONED GERMAN SHEPHERDS FOR SALE: BIG GERMAN SHEPHERDS FOR SALE: LARGE GERMAN SHEPHERDS, GERMAN SHEPHERDS FOR THE FAMILY,STRAIGHT BACKED GERMAN SHEPHERDS,OVERSIZED GERMAN SHEPHERDS, German shepherd puppies for sale in Texas German shepherd puppies for sale in Texas German shepherd puppies for sale in Missouri German shepherd puppies for sale in Nebraska German shepherd puppies for sale in Minnesota German Shepherd Breeder German Shepherd puppies New Jersey New York German Shepherd Puppies German Shepherd Puppies for sale Iowa German Shepherd Breeders German Shepherd Puppies German Shepherd Puppy German ShepherdDogs for Sale German Shepherd Dog for Sale German Shepherd Kennels German Shepherd Kennel German Shepherd Kennels Iowa German Shepherd Kennel Texas Oklahoma German Shepherd Kennels Oklahoma German Shepherd Kennel German Shepherd Dog Breeders Iowa German Shepherd Dog Breeders German Shepherd Dog Breeders Iowa German Shepherd Dog Breeder Iowa German Shepherd Dog Breeder German Shepherd Dog Temperament Long Haired German Shepherds Long Haired German Shepherd Iowa Long Haired German Shepherd Long Haired German Shepherd Puppies Imported German Shepherds Iowa German Shepherd Breeders Iowa German Shepherd Breeders Trained German Shepherds German Shepherd Dog Training Iowa GermanShepherd Dog Training German Shepherd Training Trained German Shepherds Iowa Imported German Shepherds for Sale Schutzhund Trained German Shepherds Imported German Shepherds German Shepherd puppy breeder German shepherd puppy breeders GermanShepherd puppy's German Shepherd puppy's for sale german shepherd stud dogs German shepherd police dogs Germanshepherds for sale german shepherd puppy training german shepherd puppy training Iowa german shepherd breeders in Iowa german shepherd breeders mi germanshepherd breeders mich german shepherd puppies for sale Iowa german shepherd puppies for sale in Iowa german shepherd puppy's for sale Iowa german shepherd puppy's for sale in Iowa german shephard puppies for sale germanshephard breeders german shephard puppy's german shepherd breeders ohio german shepherd puppies ohio german shepherd puppies for sale ohio german shepherd breeders indiana germanshepherd puppies indiana german shepherd puppies for sale indiana german shepherd breeders illinois german shepherd puppies for sale illinois german shepherd puppies illinois germanshepherd breeders wisconsin german shepherd breeders pennsylvania german shepherd breeders iowa germanshepherd breeders minnesota german shepherd breeders missouri germanshepherd breeders new york germanshepherd breeders california german shepherd breeders florida germanshepherd breeders texas german shepherd breeders colorado german shepherd breeders nebraska germanshepherd breeders kansas german shepherd breeders oklahoma german shepherd breeders connecticut german shepherd breeders georgia germanshepherd breeders vermont german shepherd breeders north carolina german shepherd breeders virginia germanshepherd breeders new jersey german shepherd breeders washington german shepherd breeders nevada germanshepherd breeders arizona german shepherd breeders washington d.c. pure bred german shepherds pure bred german shepherds from germany imported german shepherds from germany va & v rated german shepherds germanshepherd sieger puppies german shepherd va puppies va germanshepherd puppies german shepherd shwopuppies german shepherd show dogs german shepherd show lines imported german lines professional german shepherd breeder world class german shepherd breeders pro german shepherd breeders gsd puppies gsdpuppy gsd puppies for sale gsd kennels imported german shepherds Iowa german shepherd breeding german shepherd breeding Iowa professional german shepherd breeders Iowa schutzhund trained german shepherds Iowa Iowa professional german shepherd breeders quality german shepherds black & red german shepherds black & red germanshepherd puppies german shepherd dog kennels Iowa germanshepherd drug sniffing dogs germanshepherd bomb sniffing dogs german shepherd companion dogs germanshepherd protection dogs german shepherd personal protection dogs akc german shepherd dogs akc germanshepherd puppies akc german shepherd puppy's akc german shepherd puppies for sale akc german shepherd puppies Iowa germanshepherd pups german shepherd pups for sale schutzhund german shepherds german shephard german shephards german shepard german shepherd guard dogs german shepherd seeing eye dogs german shepherd therapy dogs german shepherd pets german shepherd books germanshepherd family dogs german shepherd family pets german shepherd breeding females germanshepherd breeding males breed quality german shepherd puppies show quality german shepherd puppies companion quality german shepherd