Ayers Legends German Shepherds
Breeders of Large German Shepherds, Old  Fashioned, German Shepherds
With Straight Backs, Large Heads, and Thick Bones
Black and Silver, Black and Cream, White, Silver Sable, Bi-Color
Black and Tan, Black, and Sable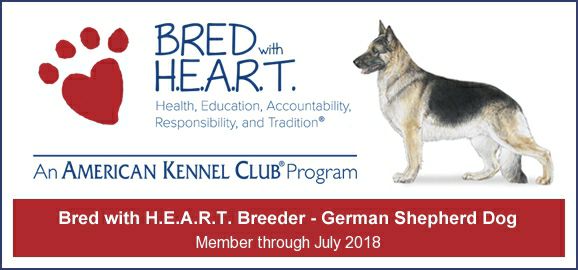 Ayers Legends is located in Southern Oklahoma. Specializing in large, over sized,  AKC registered German Shepherds.

Ayers Legends carries on the heritage and lines of old fashioned German shepherds – which are much larger than today's standards. They have thicker bone structure, bigger heads, they are taller, deeper chest, and straight backs. Also, very regal and stunning in appearance. The perfect family companion.

In comparison to today's standards Rin Tin Tin was a large old-fashioned German shepherd with a straight back. At Ayers Legends we take pride in keeping the older lines alive. The way they use to be and the way you remember them as a kid when growing up!

To ensure the quality and health of our lines all of our males and females are OFA Certified or have OFA Prelims before breeding.  OFA is the Orthopedic Foundation for Animals. This shows that the parents do not carry a trait for Hip Dysplasia. They are also DNA tested to ensure they are free of DM (Degenerative Myelopathy).

We welcome all and any questions Please feel free to email or call.

German Shepherd Breeder German Shepherd puppies Oklahoma
Oklahoma German Shepherd Breeders German Shepherd Puppies
German Shepherd Puppy German Shepherd Dogs for Sale German Shepherd Dog for Sale
German Shepherd Kennels German Shepherd Kennel German Shepherd Kennels Oklahoma
German Shepherd Kennel Oklahoma Oklahoma German Shepherd Kennels Oklahoma German Shepherd Kennel
German Shepherd Dog Breeders Oklahoma German Shepherd Dog Breeders German Shepherd Dog Breeders Oklahoma
German Shepherd Dog Breeder Oklahoma German Shepherd Dog Breeder German Shepherd Dog Temperament
Long Haired German Shepherds Long Haired German Shepherd Oklahoma Long Haired German Shepherd
Long Haired German Shepherd Puppies Imported German Shepherds Oklahoma
Trained German Shepherds German Shepherd Dog Training Oklahoma German Shepherd Dog Training
German Shepherd Training Trained German Shepherds Oklahoma Imported German Shepherds for Sale
Trained German Shepherds Imported German Shepherd

German shepherd puppy breeders German Shepherd puppy's German Shepherd puppy's for sale german shepherd stud dogs
German shepherd police dogs German shepherds for sale german shepherd puppy training
german shepherd puppy training Oklahoma german shepherd breeders in Oklahoma
german shepherd breeders mi german shepherd breeders mich german shepherd puppies for sale Oklahoma
german shepherd puppies for sale in Oklahoma german shepherd puppy's for sale Oklahoma
german shepherd puppy's for sale in Oklahoma german shephard puppies for sale german shephard breeders
german shephard puppy's german shepherd breeders Kansas german shepherd puppies Kansas
german shepherd puppies for sale Kansas german shepherd breeders California german shepherd puppies
California german shepherd puppies for sale California german shepherd breeders Missouri
german shepherd puppies for sale Missouri german shepherd puppies Missouri german shepherd breeders wisconsin
german shepherd breeders pennsylvania german shepherd breeders iowa german shepherd breeders minnesota
german shepherd breeders missouri german shepherd breeders new york german shepherd breeders california
german shepherd breeders florida german shepherd breeders texas german shepherd breeders colorado
german shepherd breeders nebraska german shepherd breeders kansas german shepherd breeders oklahoma
german shepherd breeders connecticut german shepherd breeders georgia german shepherd breeders vermont
german shepherd breeders north carolina german shepherd breeders virginia german shepherd breeders new jersey
german shepherd breeders nebraska german shepherd breeders nevada german shepherd breeders arizona
german shepherd breeders washington d.c. pure bred german shepherds pure bred german shepherds from germany
imported german shepherds from germany va & v rated german shepherds german shepherd sieger puppies
german shepherd va puppies va german shepherd puppies german shepherd shwo puppies german shepherd show dogs
german shepherd show lines imported german lines professional german shepherd breeder
world class german shepherd breeders pro german shepherd breeders gsd puppies gsd puppy
gsd puppies for sale gsd kennels imported german shepherds Oklahoma german shepherd breeding
german shepherd breeding Oklahoma professional german shepherd breeders Oklahoma
schutzhund trained german shepherds Oklahoma Oklahoma professional german shepherd breeders
quality german shepherds black & red german shepherds black & red german shepherd puppiesblack and silver german shepherds black and silver german shepherd puppies bi color german shepherds
bi color german shepherd puppies white german shepherds white german shepherd puppies
black german shepherds black german shepherd puppies
german shepherd dog kennels Oklahoma german shepherd drug sniffing dogs german shepherd bomb sniffing dogs
german shepherd companion dogs german shepherd protection dogs german shepherd personal protection dogs
akc german shepherd dogs akc german shepherd puppies akc german shepherd puppy's akc german shepherd
akc german shepherd puppies Oklahoma german shepherd pups german shepherd pups for sale schutzhund german shepherds
german shephard german shephards german shepard german shepherd guard dogs german shepherd seeing eye dogs german
shepherd therapy dogs german shepherd pets german shepherd books german shepherd family dogs german shepherd
german shepherd breeding females german shepherd breeding males breed quality german shepherd puppies
show quality german shepherd puppies companion quality german shepherd puppies
German Shepherd Breeder German Shepherd puppies Texas
Texas German Shepherd Puppies German Shepherd Puppies for sale
Texas German Shepherd Breeders German Shepherd Puppies
German Shepherd Puppy German Shepherd Dogs for Sale German Shepherd Dog for Sale
German Shepherd Kennels German Shepherd Kennel German Shepherd Kennels Texas
German Shepherd Kennel Oklahoma Texas German Shepherd Kennels Texas German Shepherd Kennel
German Shepherd Dog Breeders Texas German Shepherd Dog Breeders German Shepherd Dog Breeders Texas
German Shepherd Dog Breeder Texas German Shepherd Dog Breeder German Shepherd Dog Temperament
Long Haired German Shepherds Long Haired German Shepherd Texas Long Haired German Shepherd
Long Haired German Shepherd Puppies Imported German Shepherds Oklahoma